Public Events
パブリックイベント
POP-UP BOOKSTORE
9/17 (Friday) - 10/17 (Sunday) 10:00-19:00
Sanjo Ryogaemachi Building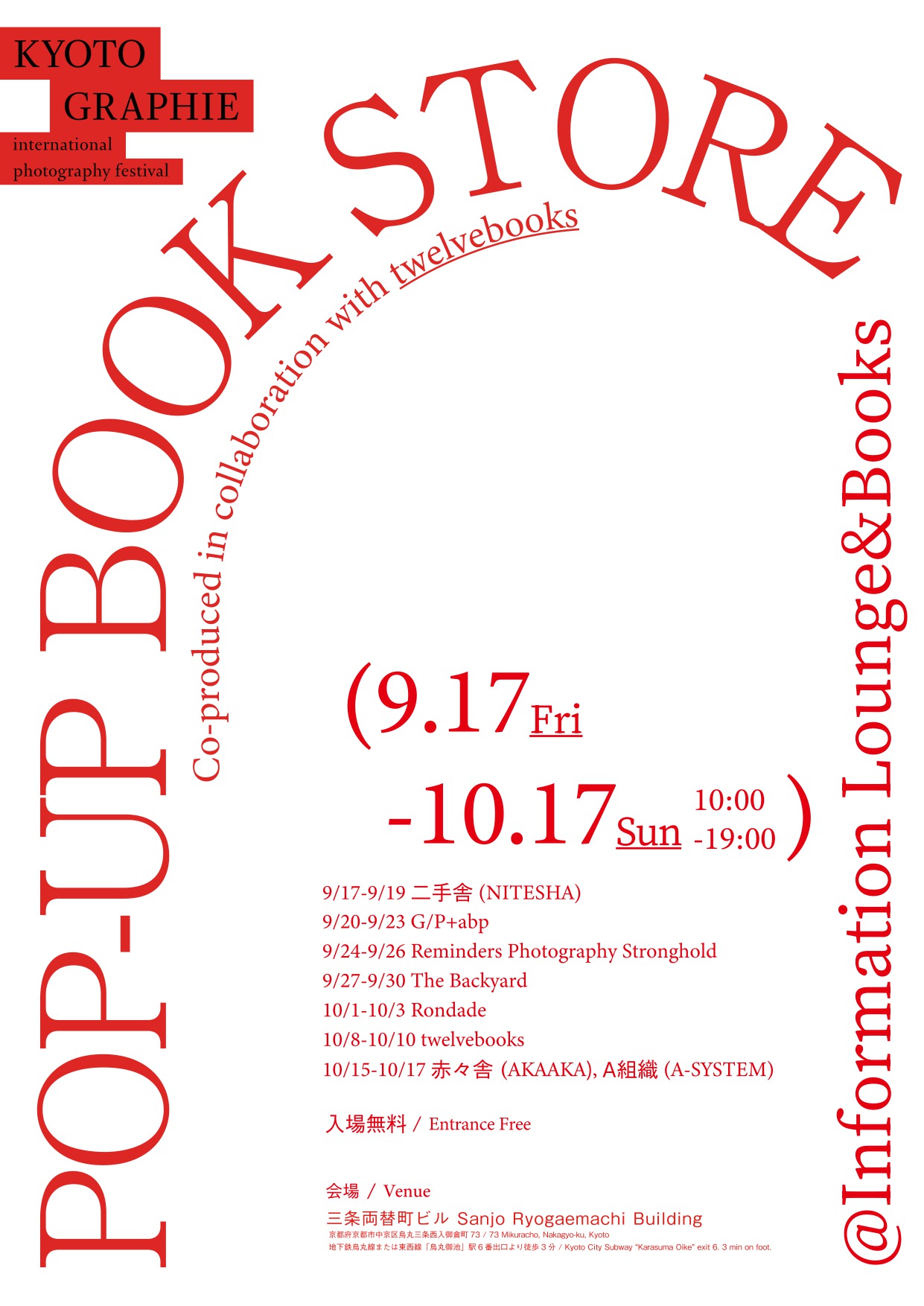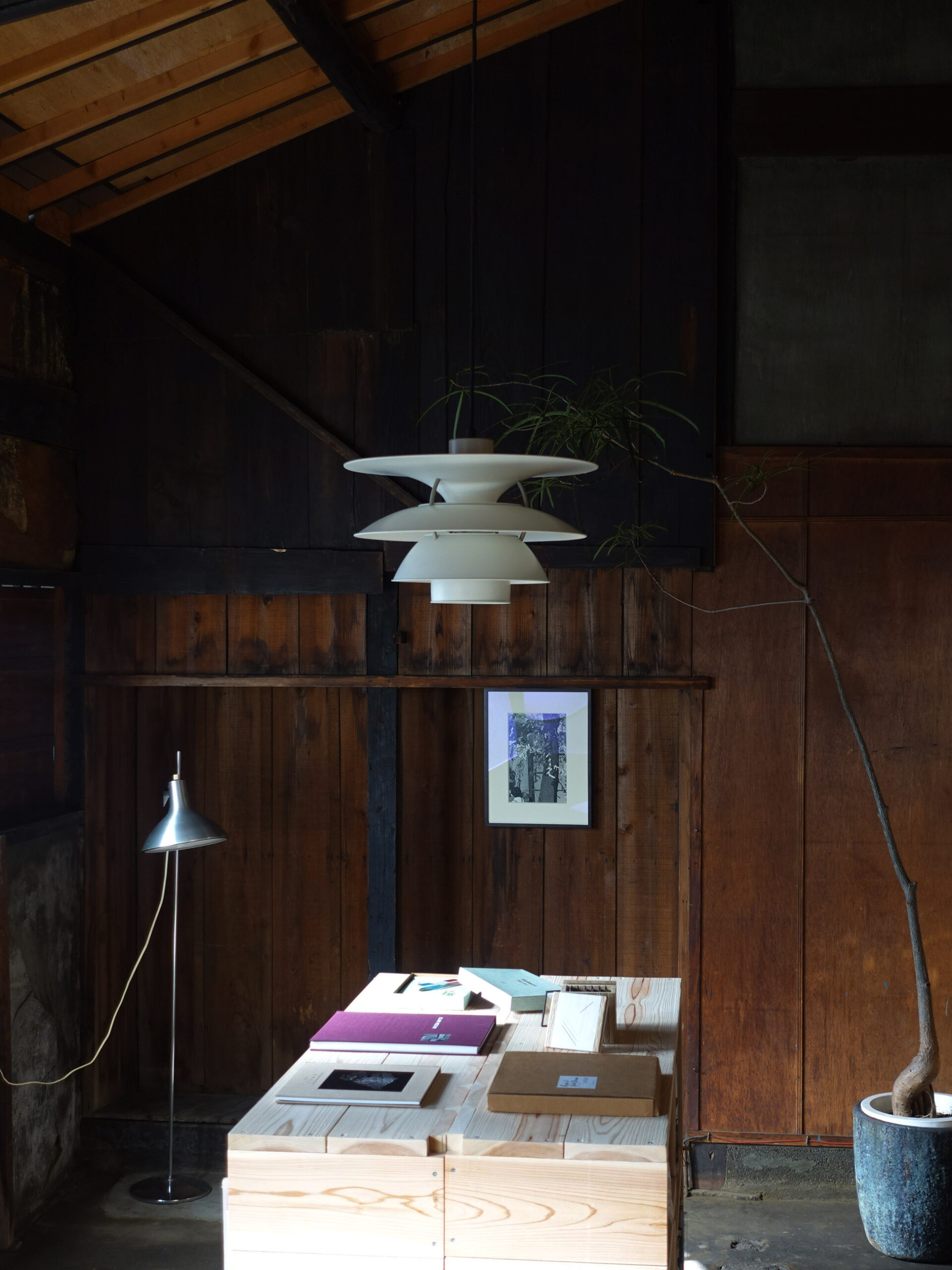 ©︎ 二手舎 Nitesha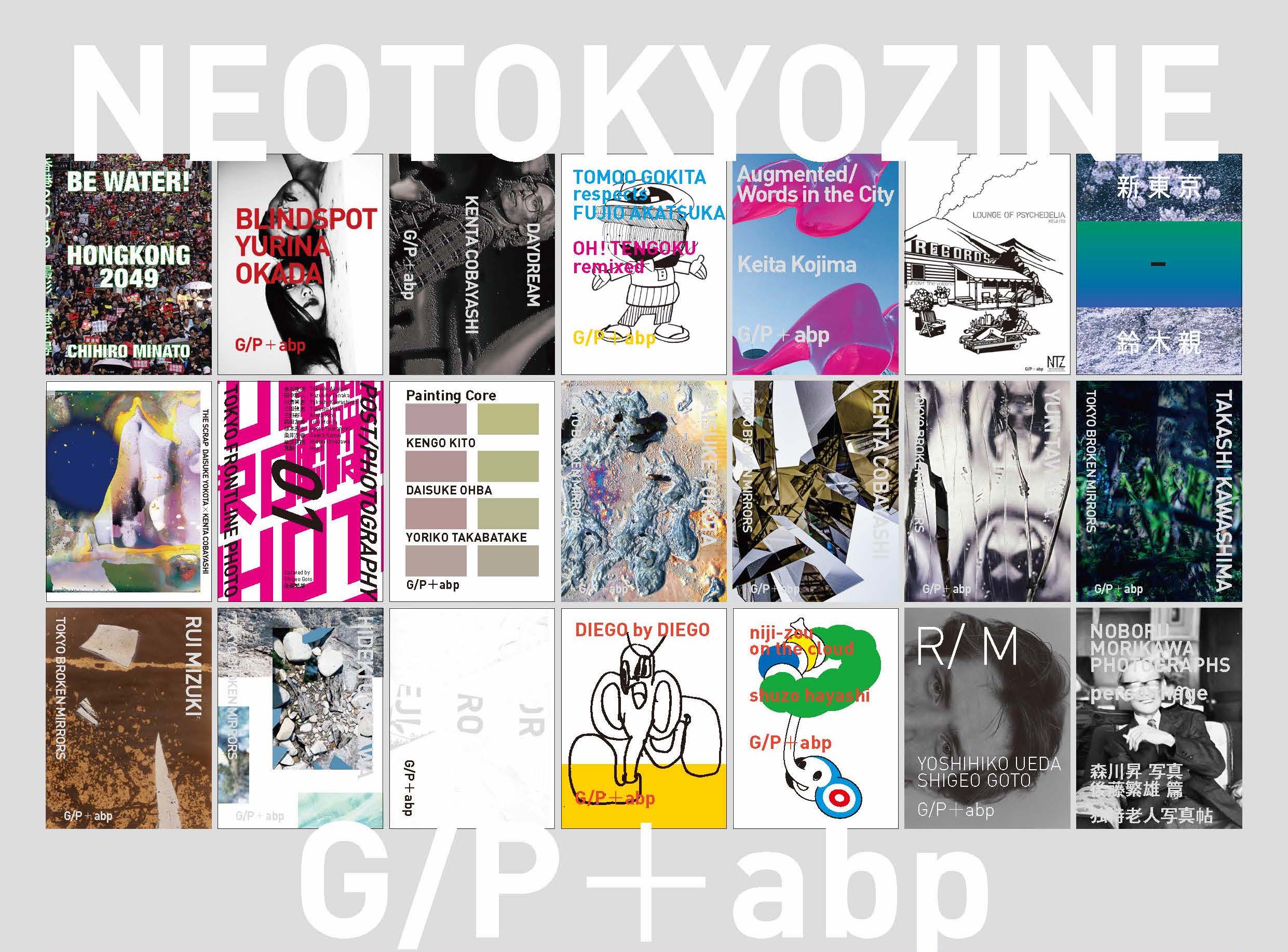 ©︎ G/P+abp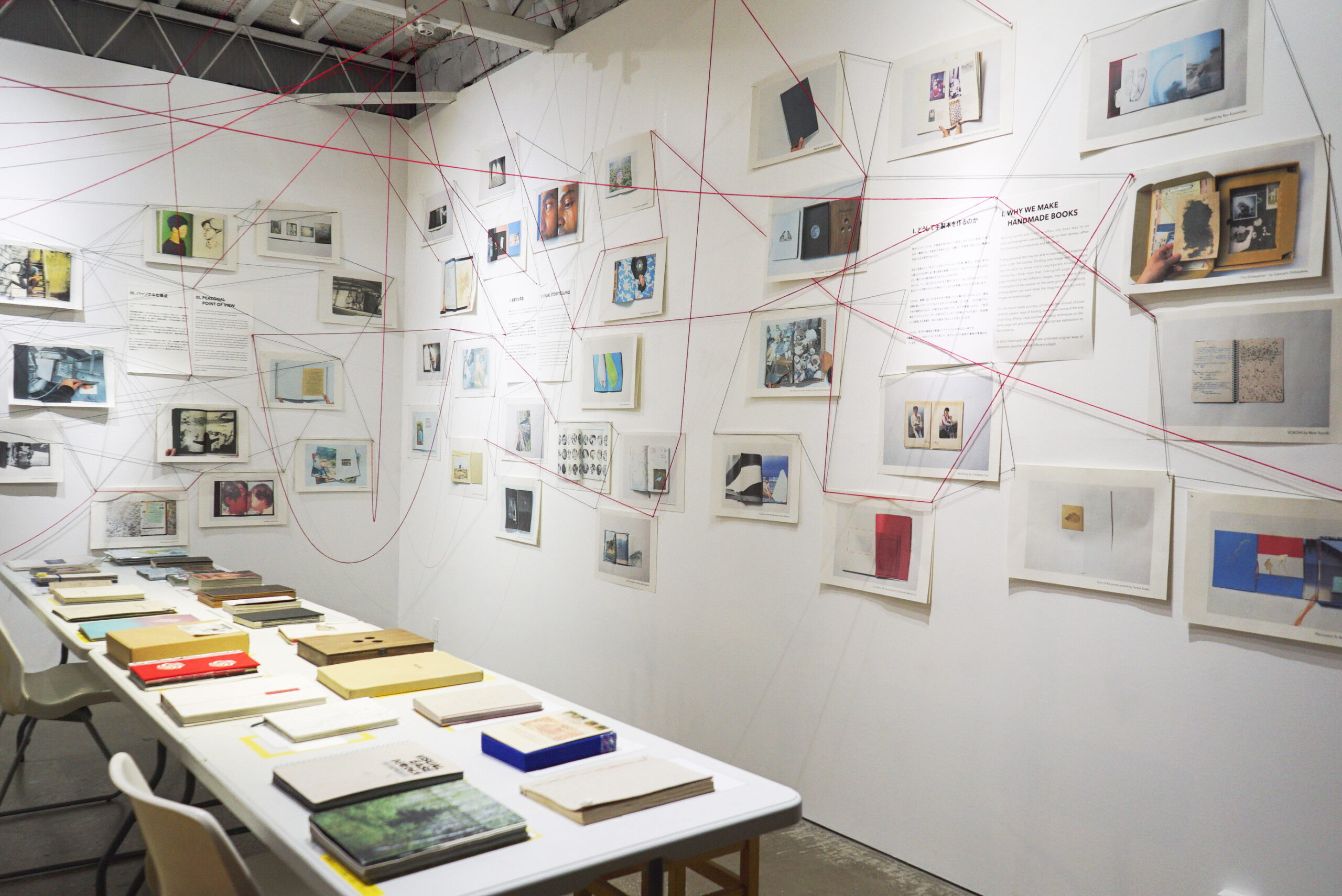 ©︎Reminders Photography Stronghold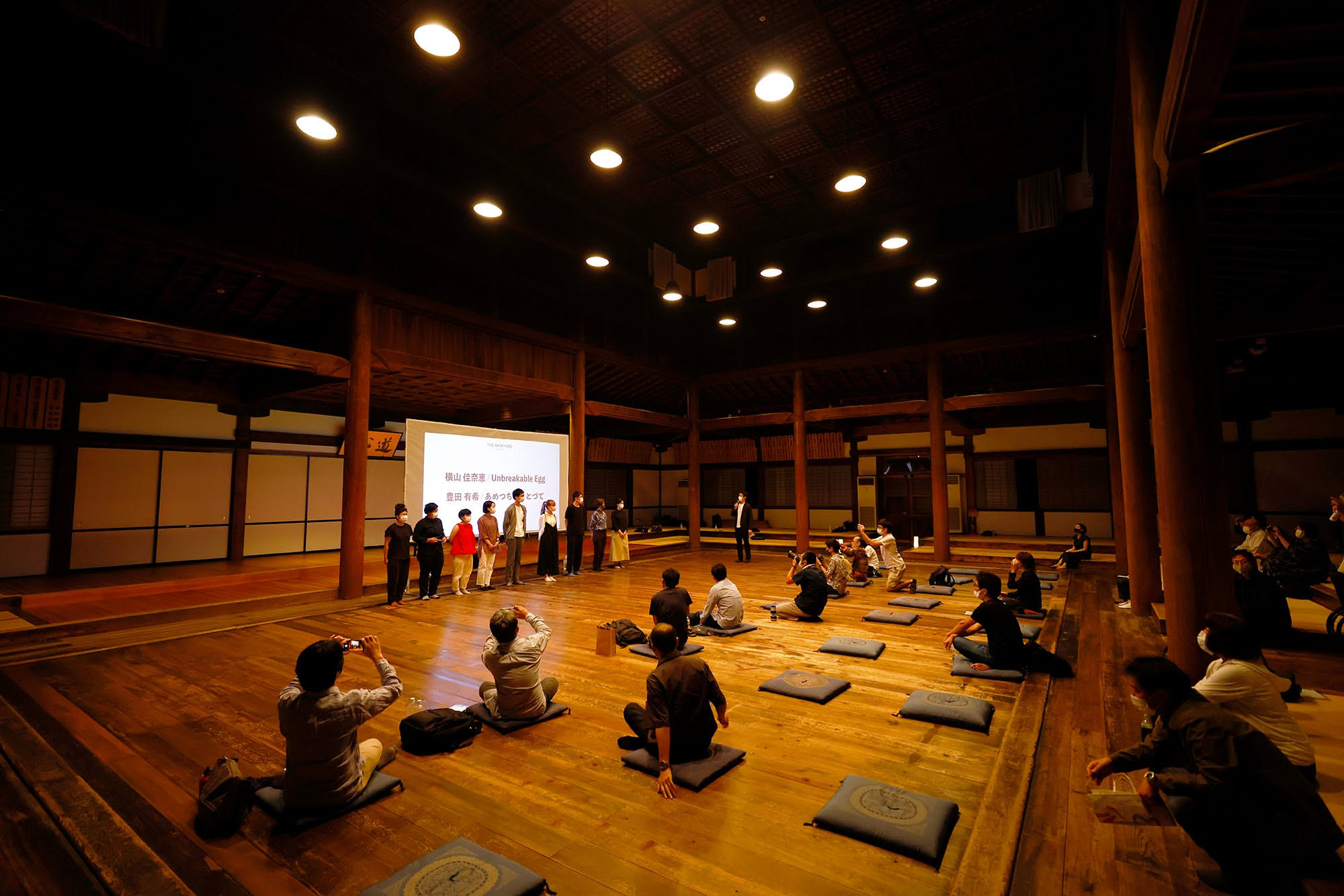 ©︎ 佐野一人 / Kazuto Sano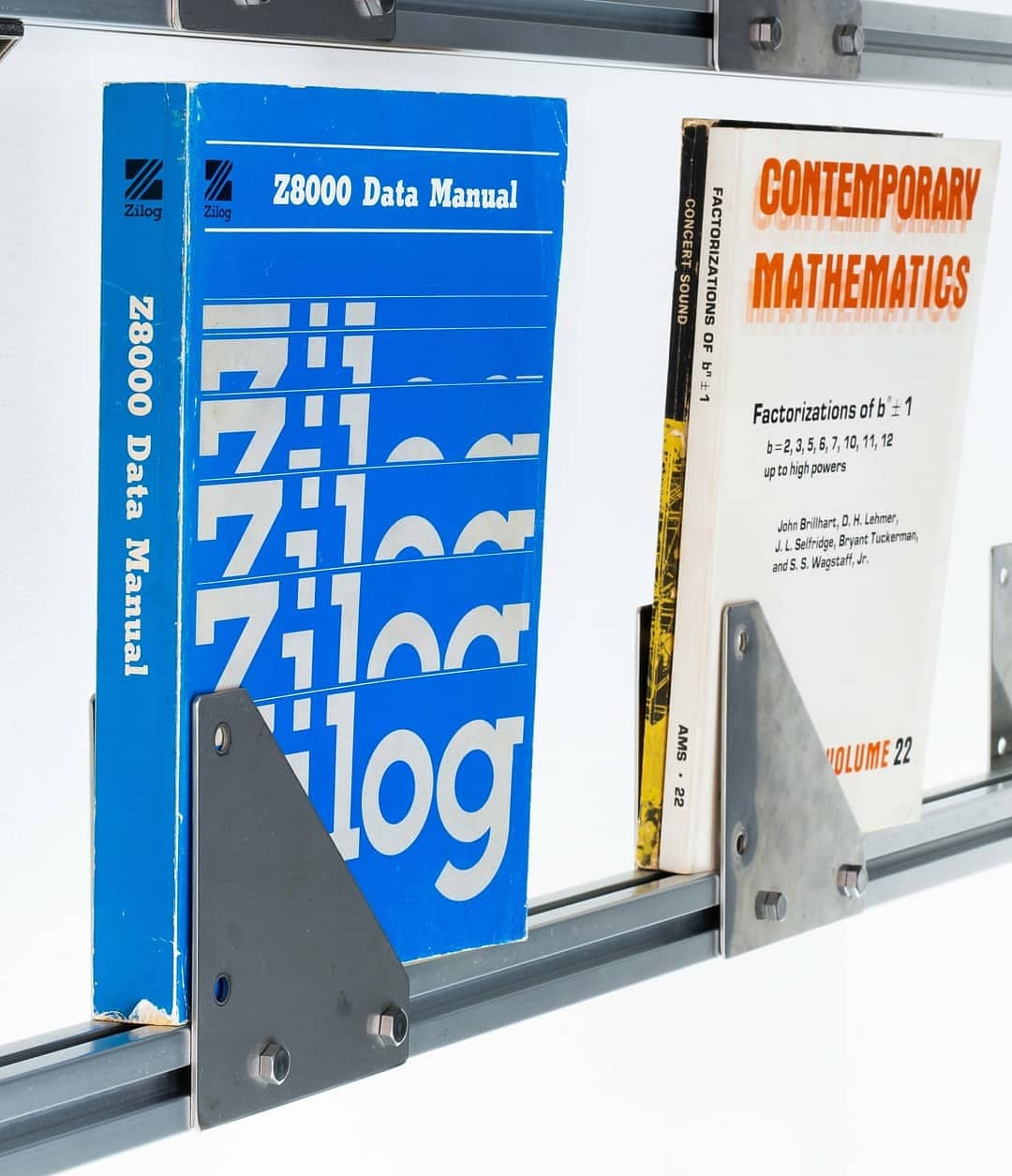 ©︎ Rondade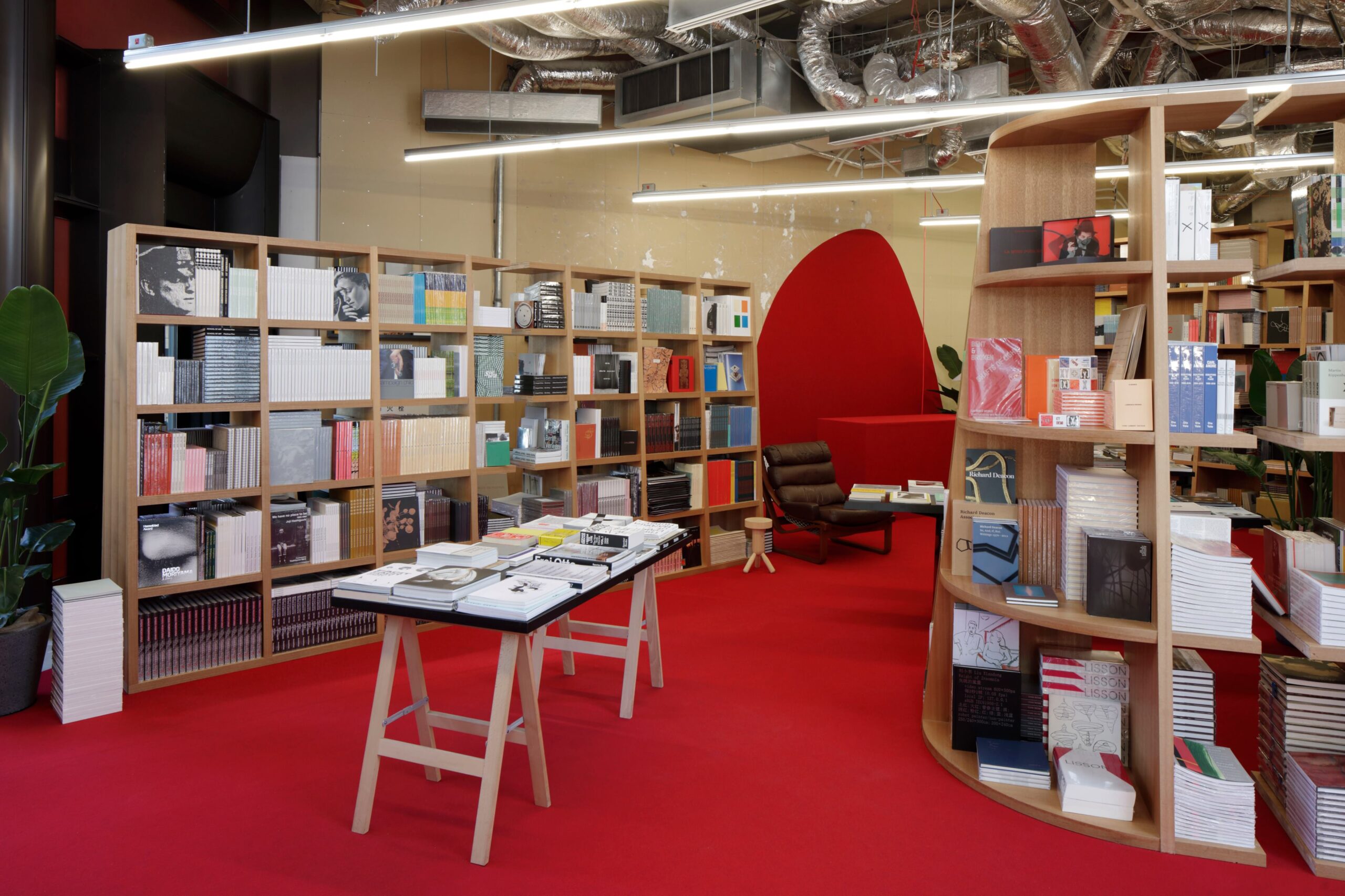 ©︎ twelvebooks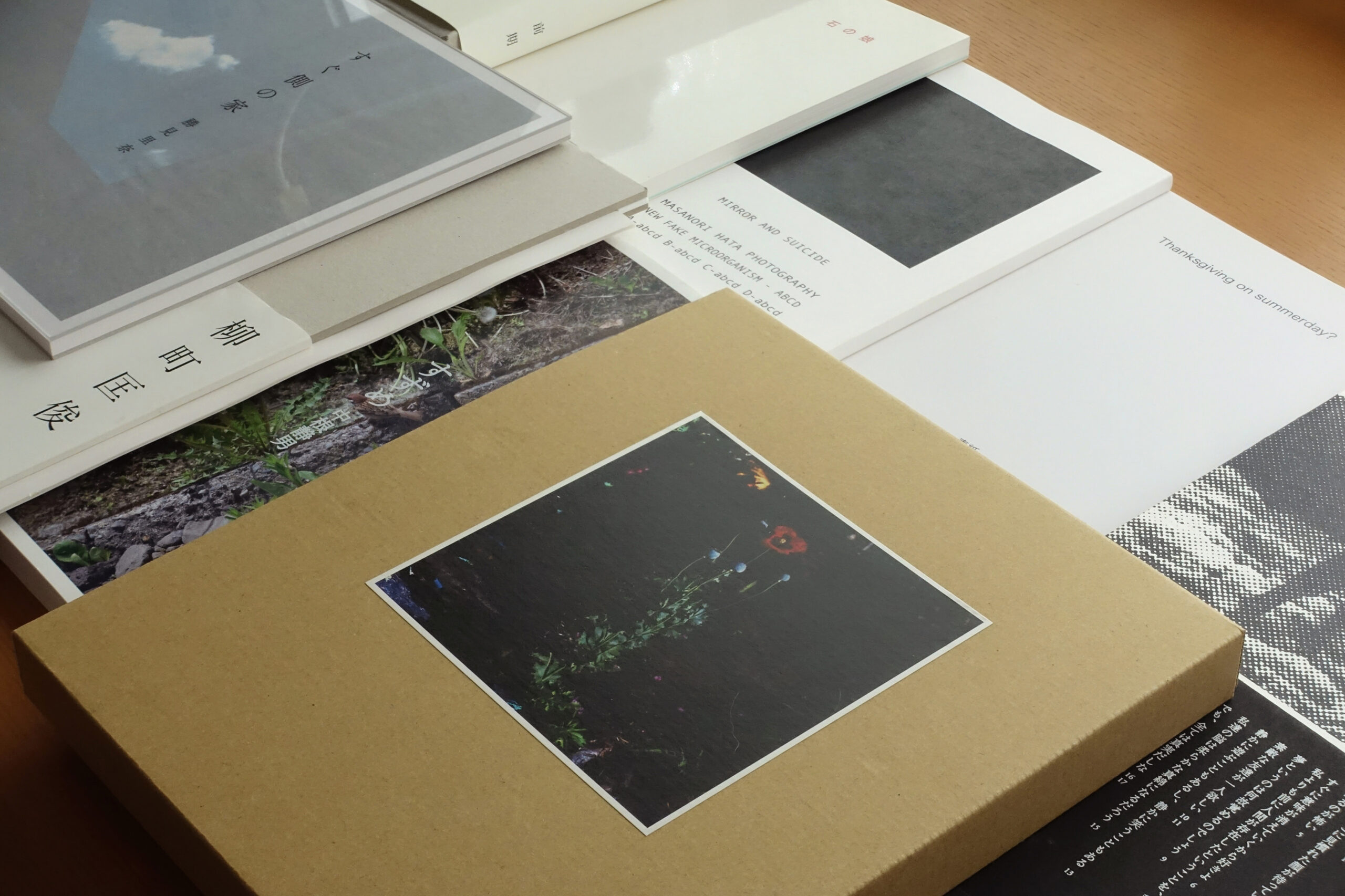 ©︎ A組織 A-SYSTEM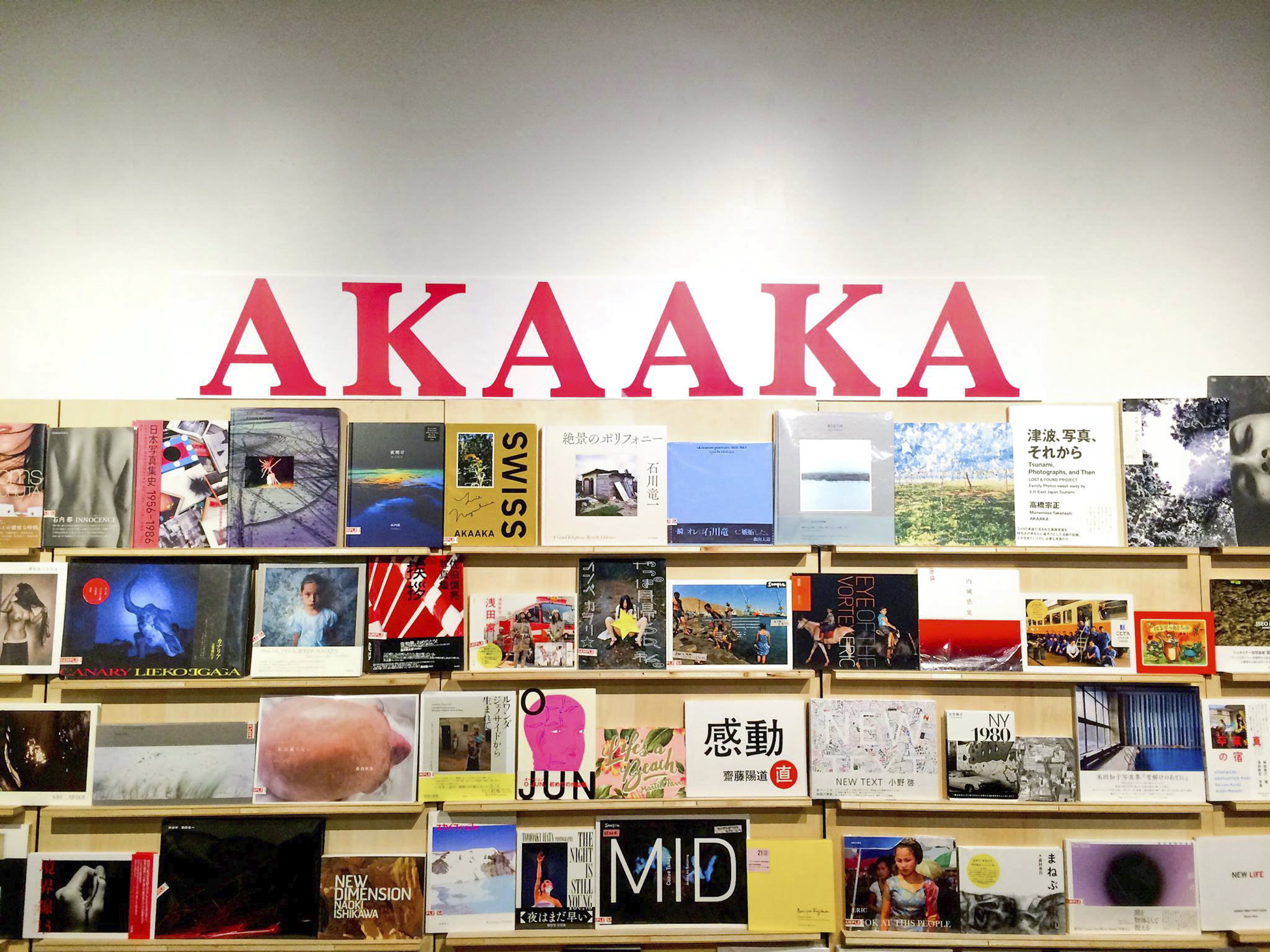 ©︎ 赤々舎 AKAAKA
This year, in addition to selling books by KYOTOGRAPHIE-related artists, we will also open a pop-up bookstore in collaboration with twelvebooks. Visitors to the pop-up bookstore may browse a selection of new, old and out-of-print publications by publishers from all over Japan and enjoy events like artist signings and pop-up photography exhibitions.

POP-UP BOOKSTORES:
#1|9/17ー9/19 NITESHA
#2|9/20ー9/23 G/P+abp
#3|9/24ー9/26 Reminders Photography Stronghold
#4|9/27ー9/30 The Backyard
#5|10/1ー10/3 Rondade
#6|10/8ー10/10 twelvebooks
#7|10/15ー10/17 AKAAKA, A-SYSTEM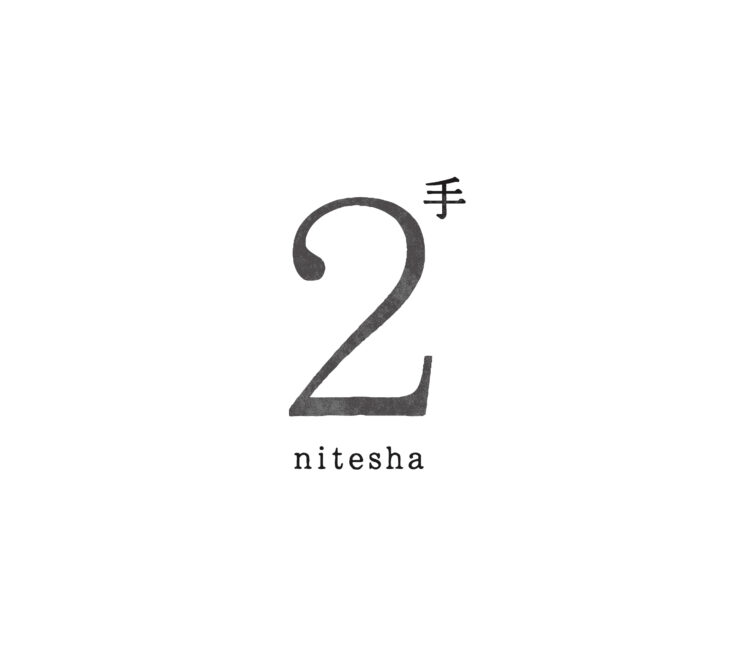 NITESHA

NITESHA is a secondhand bookstore specialized in photography books, fashion and art books. In 2017 NITESHA organized its first exhibition, then began to engage in publishing in 2018, and continues to expand the scope of its activities every year. In 2020, NITESHA opened "NITESHA KYOTO" in Nishijin, Kyoto, an art space based on the concept 'Rediscovering the New in the Old'.
G/P+abp

With "photography as contemporary art" as its mission, G/P gallery has been passionately promoting Japanese photography since 2008. Mayumi Hosokura Daisuke Yokota, Kenta Cobayashi and Takashi Kawashima are among the many young and globally renowned photographers who were introduced by G/P gallery. In 2019, G/P gallery moved from Tokyo to Hamamatsu and made a new start as the photo platform G/P+abp. Based in Hamamatsu, G/P gallery continues to to share its enthusiasm and vision of photography as contemporary art through exhibitions, publications, and so forth.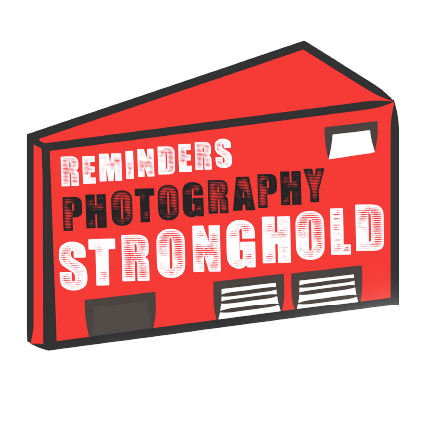 Reminders Photography Stronghold

Reminders Photography Stronghold is a curated membership gallery in Tokyo making multi-photographic activities possible (exhibitions, workshops, events, photobook room, photographers in residence, photography grants, publishing). Works created by workshop participants from Japan and abroad are highly valued by the international photography community and receive dummy photo book awards at photography festivals around the world. In addition to the newest photo books by this year's participants, Reminders Photography Stronghold will also present books already out of print.
The Backyard

Located in the backyard of a small alley in Kyoto, THE BACKYARD is a space for Kosuke Okahara to experiment and produce his art works. It is also the name of his art book label. The 130-year-old traditional wooden house, renovated by the artist himself, used to be a small manufactory for Nishijin-ori, a traditional textile produced in Kyoto. THE BACKYARD also created "PITCH GRANT", a grant program to support young lens-based artists. In addition to photo books published by THE BACKYARD, we will present the publications of the finalists of the 1st and 2nd PITCH GRANT, as well as works by several artists who participated in the PITCH GRANT jury.
Rondade

Rondade was founded with the goal of giving shape to various art forms by thinking out of the box. Rondade's publications include the following art books and photo books: "interact" by Tomii Motohiro,"photocopy" by Go Itami, "Composition No.1-10 and the derivatives, 2001-2016" by Buku Akiyama, "substance" by Ikuhisa Sawada, and many more.
twelvebooks

twelvebooks is a Japan-based distributor which is founded in 2010. We works with international independent publishers to distribute and promote publications on contemporary art and photography. With respect to each publisher's individuality, concept and passion, twelvebooks helps to market the publications in Japan and throughout the rest of Asia. twelvebooks is committee member of Fine-Art Photography Association (FAPA) and TOKYO ART BOOK FAIR. twelvebooks co-curates a book store, 'BIBLIOTHECA' at Dover Street Market Ginza. twelvebooks opens a space, 'SKWAT/twelvebooks' in May, 2020.
AKAAKA

AKAAKA Art Publishing, Inc. was founded in 2006 by Kimi Himeno in Japan. Specializing in photography and art, AKAAKA have published more than 250 books in the past 15 years, featuring a diverse range of Japanese and international artists, seven of whom have been awarded the prestigious Kimura Ihei Photo Prize. AKAAKA see it as their mission to explore the possibilities of photography and employ the photobook as a vessel to question the essence of photography and our understanding of art. In recent years, AKAAKA have also organized various events, aiming to not only convey the current state of photographic expression, but also provide a stage for photographers' real voices.

A-SYSTEM

A-SYSTEM is a group that engages in publishing, exhibitions, lectures, events, etc., with an emphasis on photography for the brain and the heart instead of only the visual. 
Access
アクセス
Information Lounge & Books (Sanjo Ryogaemachi Building)

73 Mikuracho, Nakagyo-ku, Kyoto, 604-8166
Kyoto City Subway "Karasuma Oike" exit 6. 3 min on foot.
Recommended Events
おすすめのイベント