Public Events
パブリックイベント
ワークショップ|Pure Possibility Walking Club [ENG, FR, JP]
ワークショップ|Pure Possibility Walking Club [ENG, FR, JP]
Date: 10/3 Time: 13:00-19:00
Venue: Social Kitchen
Limited live audience
The Pure Possibility Walking Club invites photographers, amateurs, or professionals of all practices to gather and experience a form of collaborative photography with American Photographer Foster Mickley. Together, we will explore commute spaces, sidewalks, "normal" places. We use the camera as a way to pay attention, and rediscover through the pure possibility of curiosity. We will learn by looking together.

At the end of the walk, we will share and look through the camera of another, discover what the photographer was curious about - in a similar way as looking at someone's contact sheets in the dark room.

There will be a group exhibition, without attribution of individual authorship. The names of the participants will be mentioned as a collective. Restrictions emerging from social identity and media should disappear to free the curiosity from any constraint, and deepen the sense of possibility.

This event has limited booking space, so you will receive a confirmation email for your reservation.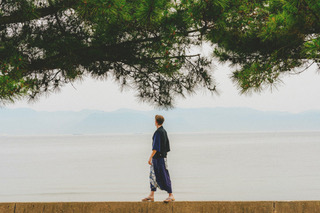 Foster Mickley

Born in 1985, Foster Mickley studied at Medill School of Journalism in Chicago, fine arts in Columbia University and photography at Magnum Photo in Paris. Past exhibitions include a solo show at NYC Munch Gallery, and group shows in Arles Voies Off, Korea National University of the Arts, NYC Ilon gallery, Berlin Foto Kiez, Tokyo Reminders Project Stronghold and KG+ in Kyoto. A New-Yorker, he has been living and working between his hometown, Berlin and Tokyo for over ten years. Based in Kyoto since 2020, Foster Mickley is a member of Antibodies Collective and a co-founder of Jama Gallery. He will participate in the coming Research Fellow Program of the Kyoto Institute of Contemporary Arts.
Recommended Events
おすすめのイベント