Online selling of e-ticket for KYOTOGRAPHIE 2021 has ended.
How to enter the KYOTOGRAPHIE Kyoto International Photography Festival 2021
There are several ways to enter KYOTOGRAPHIE, Kyoto International Photography Festival venues.
You can choose between the "e-passport" which can be purchased in advance and saved on your smartphone, and the conventional paper passport.
If you want to visit many venues, the standard passport is the most convenient.
If you want to visit only on weekdays, you can use the discounted "Weekday Passport.
If you are a university, high school or vocational school student, the Student Passport is more affordable than last year.
If you are planning to visit multiple paid venues or just want to casually visit a single theater, you can purchase a single theater ticket.
If you wish to enter only one theater with a single theater ticket, or if you wish to enter only free venues, you can use the "Corona Secure Registration Card."
Four types of tickets are available
Adult Passport
(全日入場可能)
¥4000
紙パスポート:各有料会場
Eパスポート:オンライン

Adult Passport with Donation
(全日入場可能)
¥10000
紙パスポート:各有料会場
Eパスポート:オンライン

Student Passport
(全日入場可能・大学・高校・専門学校)
¥2000
紙パスポート:各有料会場
Eパスポート:オンライン

Weekday Passport
(月〜金のみ入場可能) 
¥3500
Eパスポート:オンライン

Venue Ticket

¥800〜1400
各会場で都度お支払い
Notes
※KYOTOGRAPHIE does not require advance reservation.
※You will be admitted to the venue in the order of your arrival.
※Please note that the number of people waiting to enter the venue and the number of people who can enter the venue are limited, and if there is a large number of visitors, the venue may temporarily limit the number of visitors.
※Each passport can only be used by the registered customer, and cannot be used by more than one person. Please be sure to bring one passport per person.
※During the exhibition period, information on venue congestion will be posted on our official website, Twitter, LINE, and other official accounts.
※Free admission for junior high school students and younger.
※Valid for the entire duration of the exhibition / Only one admission to each main program venues.
※For the Associated Program, present your passport to receive a discount on the entry fee.
※The 1-day passport is not available this year.
※For the Associated Program, present your passport to receive a discount.
Eパスポートの購入と使用方法
Purchasing e-passports.
Click on the "Buy Tickets" button on this website
Select the passport type and the number of tickets.
Click the "Buy" button, enter your email address and other necessary information, and make the payment.
After payment, an e-passport (passport with a QR code) will be sent to your registered e-mail address.
When entering the venue, present the passport with QR code at the venue using one of the following methods

PDF - Print out a PDF file of the E-Passport (Passport with QR Code) using your printer at home.
Image - Save the PDF to a document or photo on your smartphone.
Wallet - Add "e-passport (passport with QR code)" to your iPhone Wallet for use.
There will be no ticket exchange at each venue on the day of admission. Please bring your "Ticket with QR Code" to the entrance gate.
Transferring an E Passport
If you have purchased multiple passports at the same time, you can transfer them.
Please download the PDF file of the "e-passport (passport with QR code)" sent to your registered email address, which you can then email to, or print for the person you wish to transfer it to.
※People who receive the passport in this manner will not be able to add it to their Wallet (iPhone).
If you are using Wallet (iPhone only)
You can register your "e-passport (passport with QR code)" to your Wallet.
Click the "Register for Apple Wallet" button in the email you received.
Confirm that the "KYOTOGRAPHIE E-Passport" has been added to your Wallet on your iPhone.
Present your Wallet pass when you check in at each venue.
※You can enter each paid venue once.
※You will be able to register all passports purchased online.
How to purchase and use a paper passport (same as before)
Paper Passport
Paper passports can be purchased at the following locations.
KYOTOGRAPHIE Information Lounge & Books
At the reception desk of each paid venue
At the reception desk of each paid venue
How to use the Corona Registration Card (free of charge)
If you wish to enter all venues of KYOTOGRAPHIE with a single ticket.

1. You will need to register when you enter the first venue.
2. Please scan the QR code for Corona Secure Registration installed at the venue and register the required information from your smartphone.

This card can be used throughout the exhibition period.
However, if you purchase a passport for a second or subsequent venue, you will need to register your information in the passport.
If you have purchased a passport, you do not need to present this card.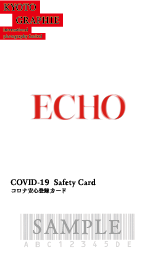 Notice
お知らせ
Protective measures against the spread of COVID-19
For this edition of KYOTOGRAPHIE, the festival takes measures to prevent the spread of COVID-19. This is in accordance with city, prefectural, and national guidelines. We appreciate your understanding and cooperation.
For Visitors

Please wear a mask inside the venue.
Please cooperate in disinfecting your hands with alcohol upon entry.
Please cooperate with a body temperature check upon arrival.
If you have a fever of 37.5℃ or higher, you cannot enter.
If you are experiencing cold-like symptoms such as a fever or are feeling unwell, or have been in close contact with someone who has tested positive for COVID-19, please refrain from visiting the festival.
Please keep your distance, approximately 2m from other visitors when viewing.
Please lower your voice.
Contact information is required to be registered upon entry and venue entry history is recorded.
Measures for Venues and Staff

The Staff must wear masks during their shifts, and face shields and gloves when necessary.
The temperature and health of the staff are checked before starting work.
Open windows or put air circulators to maintain adequate ventilation.
The staff to diligently disinfect hands and handled objects in the venue, for example, surfaces, pens, ipads, door handles, bathrooms, etc..
Public Events and Special Online Contents

For the public events, preventive measures are taken according to the festival's guidelines. We offer 'Special Online Contents' to avoid congestion, and for those who are unable to travel.
※ The details are subject to change due to the COVID-19 situation or the level of congestion. KYOTOGRAPHIE appreciates your understanding.
Summary
開催概要
Exhibition Dates

9.18 Sat―10.17 Sun. 2021

Closed Day

Depends on the venue

Hours

Depends on the venue

Venues

Main Program 10 venues in the Kyoto city
Associated Program 1 venues in the Kyoto city
In order to prevent the spread of COVID-19, the opening days and hours are subject to change.
To avoid disappointment please check the latest information on the official website or by calling the festival.