Exhibitions
展示情報
7
Kazuma Obara
ECHO of 2011: 5 Exhibitions

Fill In the Blanks
Curator: Marina Amada
Nijo-jo Castle Ninomaru Palace Daidokoro Kitchen and Okiyodokoro Kitchen
[Open from 9/23 (Thursday/Public Holiday)]
9:30–17:00 | Closed: 9/18-22, 29, 10/6, 13
* Entrance to Nijo-jo Castle is open until 16:00

Adult ¥1,400
Students ¥1,000 (Please present your student ID)

* Nijo-jo Castle entry fee is not included. Must be paid in addition (¥620).
* [For visitors in wheelchairs] The staircase at the exhibition space entrance is dangerous to access in a wheelchair.
Ten years have passed since the Great East Japan Earthquake and tsunami struck Japan in 2011. These events and the subsequent nuclear disaster are still affecting Japan today. People are struggling to recover and many of the challenges they faced are unabating. These five exhibitions share some of the important stories about and coming from this tragedy.
Kazuma Obara, no title, 2012 ©️ Kazuma Obara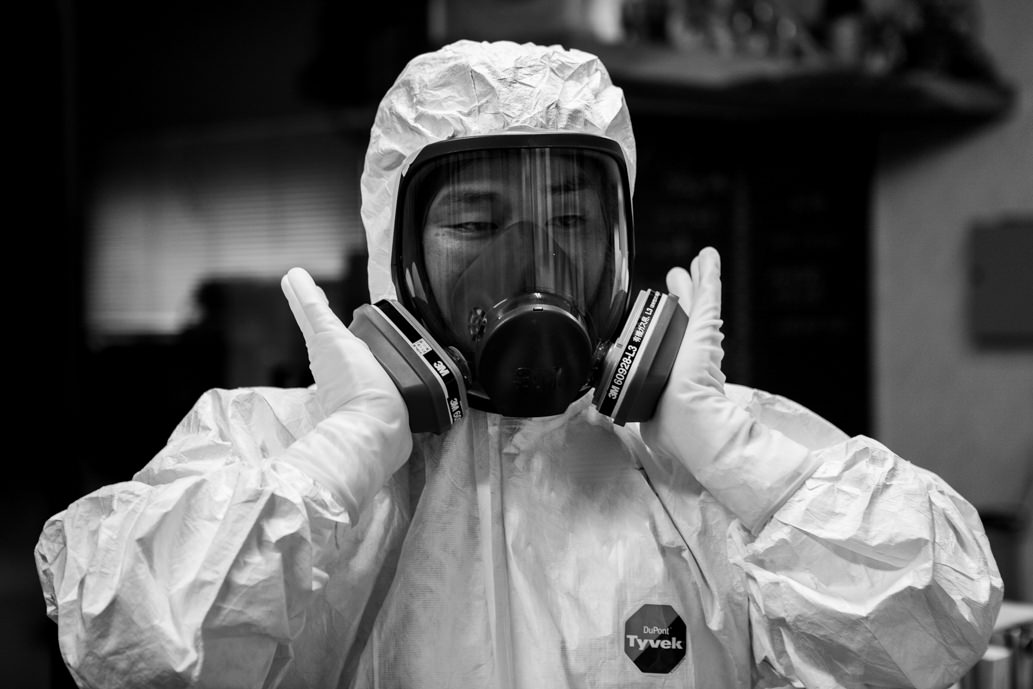 Kazuma Obara, no title, 2011 ©️ Kazuma Obara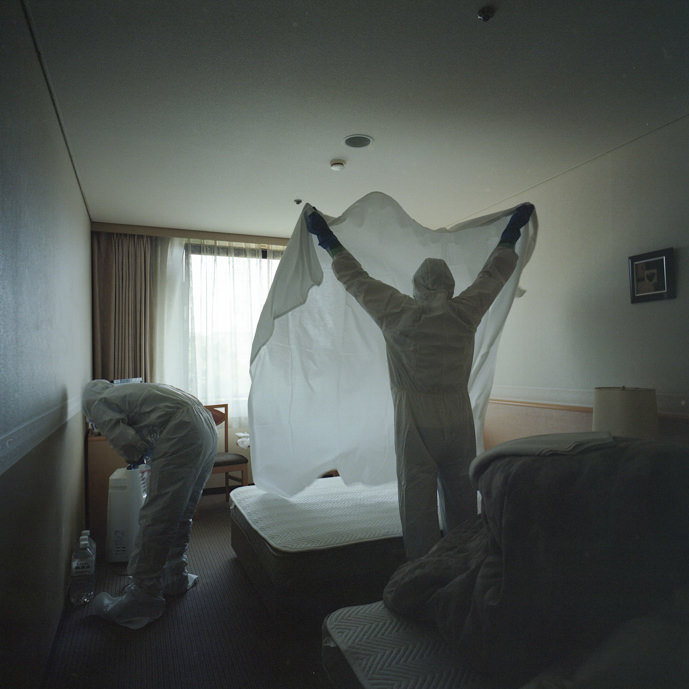 Kazuma Obara, Fill in the blanks, 2020 ©️ Kazuma Obara / National Geographic Society Covid-19 Emergency Fund
Born in Iwate Prefecture in 1985. Photographer and journalist. Obara graduated in photojournalism from University of the Arts, London. Following the Great East Japan earthquake in March 2011, he quit his job at a leasing company and began photographing areas affected by the tsunami and the Fukushima nuclear power plant disaster. He photographed the crippled Fukushima Dai-ichi Power Plant from the inside, culminating in the publication of the photobook Reset: Beyond Fukushima (Zürich: Lars Müller Publishers, 2012), which documented the Great East Japan earthquake and workers at the Fukushima Dai-ichi Nuclear Power Plant.
He has won numerous international awards, including the World Press Photo Award. In 2020, with a grant from the National Geographic Society of the United States, He started to document the efforts of nurses and caregivers working on the front lines of the corona pandemic. In KYOTOGRAPHIE 2021, two series will be exhibited, one that follows Fukushima Dai-ichi Nuclear Power Plant workers in charge of decommissioning the plant, and the other focusing on medical and long-term care workers during the COVID-19 pandemic.

Warning
: Use of undefined constant php - assumed 'php' (this will throw an Error in a future version of PHP) in
/home/kgvr/kyotographie.jp/public_html/2021.kyotographie.jp/wp-content/themes/theme_2019/single-exhibitions-en.php
on line
207
Access
アクセス
Nijo-jo Castle

541, Nijojo-cho, Nijo-dori Horikawa Nishi-iru, Nakagyo-ku, Kyoto
Subway Tozai Line "Nijojo-mae" station. 5 min on foot from Exit 1